Home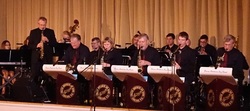 Welcome to our site. As you look through these pages, you will learn about the Band's formation and members. You'll also learn about the music we play and our passion for Big Band music.

You'll see where we have been, and what people think of our performances.

We also have a Scholarship Fund to help train young musicians from our New Hampshire high schools to continue the Big Band music in the future.



It is our hope that we will see you at one of our upcoming performances in NH or MA… or, perhaps, you would like to hire the Band for your upcoming events …

If you have any questions, please feel free to contact Peter Imse, our Band's Secretary/Treasurer.


We look forward to seeing you soon ...


---