The Original Freese Brothers (l to r:) George, Courtland, Bill and Jack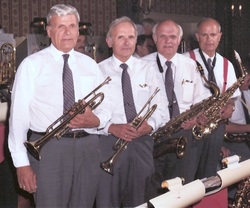 By the time the Freese Brothers Big Band was formed in 1982, the Freese brothers, George, Courtland, Bill, and Jack had been playing music together for 50 years.

Growing up in Pittsfield, they performed in a family troupe called the Homespun Broadcasters, joining their sister and parents in a family musical tradition in the 1930s. They even had their own small bus, with instruments piled on top.

The brothers organized or performed in college bands, and played for decades in various groups before all four put together a group of talented musicians for a performance for a company party on the M/S Mount Washington in 1982.

They thought it would be a one-time gig, but the word got out and requests for more performances came in.

"Before we knew it, we were a big band," Jack said. "We just fell into it."

The Freese Brothers Big Band was born. With George and Courtland on the trumpet and Jack and Bill playing saxophones, the brothers went about recruiting musician friends to fill out the band.

Ever encouraging and supporting their fellow band members, the brothers have been a musical inspiration and more for the band. When Jack suffered a stroke and no longer had the dexterity to play the saxophone, he learned the trombone.

George, Bill, and Jack have passed on. Courtland continues supporting the band and attending performances.


---
George, Courtland, Bill, and Jack, we thank you!